Most of us struggle with how we can talk about our faith without being embarrassed or offending people. The Spiritual Conversation Curve, developed by Lutheran Hour Ministries, sheds light on this important topic. It shows that the path a person takes toward faith in Christ is a process with several steps (and may take place over a period of time). The following scenario describes what this might look like: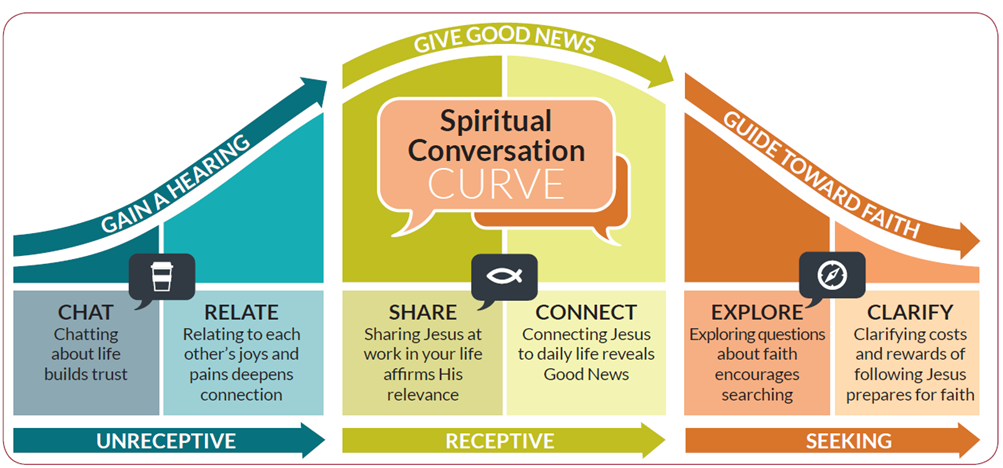 Source of Image: Lutheran Hour Ministries
CHAT: You are in the waiting room at an auto repair shop, waiting for your car to be serviced (or in your doctor's waiting room or on an airplane) and you start visiting with the person next to you. You just talk about ordinary things. You mention how hot it is outside, you ask if they have noticed how prices of everything have gone up, or if they were impacted by the tornado that came through town a few weeks ago.
RELATE: At some point, you ask: "What is your name? My name is _________" and you give your name, and probably shake their hand. You will probably see their countenance brighten, as you have uttered the most precious words in the world to them – THEIR NAME. And you have now entered into their world by asking who they are; you have expressed an interest in HEARING THEIR STORY.
ASK AND SHARE: You continue the conversation, asking what they do or work, if they are in school (if younger), or if they are retired (if older), and where they are from originally. You are inviting them to tell you THEIR STORY OF WHO THEY ARE AND WHERE THEY CAME FROM. Of course you share your story as well. You might ask if they still have family back home, and if they have family here. Then you ask: "What was your religious background?" This usually is the beginning of A SPIRITUAL CONVERSATION with the other person, starting with a non-threatening question.
A spiritual conversation, which can take place anytime, anywhere, with anyone, is a conversation about spiritual matters – God, faith, doubt, heaven, hell, Muhammad, or Buddha. Two atheists in a bar talking about how naive Christians are, are having a spiritual conversation.
CONNECT: A good second question is: "Are you still involved in that church (or religion or belief system)?" If they say no, you can ask where are they now in this regard, and you can then (briefly) tell them the story of your spiritual journey and where you are now on that journey. You share how you see our Lord working in your life.
EXPLORE AND CLARIFY: You have launched a SPIRITUAL CONVERSATION, and you can explore questions they have and clarify the good news – the love and truth of Jesus Christ, Who came to set us free from sin and the fear of death.
Key Points
· BE CURIOUS and interested in who they are as a person and their life experiences. You can learn things from them that you never knew, and they don't care how much you know if they don't know how much you care.
· BE OPEN and be willing to share about your own life and life experiences. You have nothing to hide, nothing to fear, and nothing to prove in this conversation.
· REALIZE that they might even become a friend of yours, and you a friend to them. True friends warm you with their presence, trust you with their secrets, and remember you in their prayers.
· BE TOTALLY NON-JUDGMENTAL – it is not our job to judge others (that's God's job), and if we are judgmental, they will clam up, and the conversation is over (or worse – we get into an argument). Instead, be sympathetic; everyone we meet has lost something, loves something, and has a hope or fear.
· LISTEN ACTIVELY, asking questions to learn more about what they have experienced in life and what they now think and believe. The more we know about who they are, what they have experienced, and what they now think and believe, the better able will we be to relate to them as a person and their soul.
· PRAY SILENTLY, asking the Holy Spirit to guide you in this conversation, to give you the words to say to this person. And remember that there are always three persons in a spiritual conversation – you, the other person, and the Holy Spirit.
Every day we encounter souls who are lost and would welcome a SPIRITUAL CONVERSATION. So let us go forth to converse with them with the love and truth of Christ as if God sent us, BECAUSE HE HAS.
To God be the glory