Saturday @ 9AM at FLC Lutheran Education Hall
Greetings in the name of our Lord. The Board of Evangelism sponsored a Christian based Toastmasters club called Kingdom Toastmasters. We invite you to join us every Saturday morning from 9 AM – 10 AM. Arrive early for food and coffee.
The general mission of all Toastmasters clubs is to provide a supportive and positive learning experience in which members are empowered to develop communication and leadership skills, resulting in greater self-confidence and personal growth.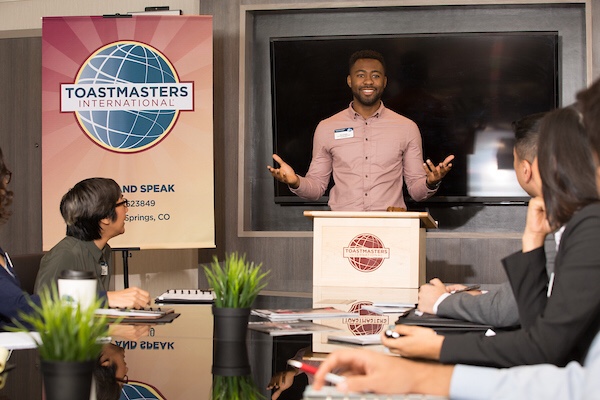 We were inspired to create this as we were reading "Speaking Boldly" in bible studies. We realized that Christians do not have a safe environment to practice talking about Christ. In a club we could answer questions about Christian topics (Christian living, Christ, evangelizing, apologetics, etc). We could do speeches and presentations with a Christian theme. We could also help build future leaders that would be instilled with Christian principles.
Our Calling as Christians
The Great Commission calls each of us to make disciples, baptize them, and teach them to observe all things commanded by Christ (Matthew 28: 19-20). These activities require communication. When Moses was called to a similar task that required him to communicate to Pharoah in Exodus 4, even he feared the task:
Then Moses said to the Lord, "O my Lord, I am not eloquent, neither before nor since You have spoken to Your servant; but I am slow of speech and slow of tongue." Exodus 4:10
More Details
Kingdom Toastmasters is open to all interested Christians (non denominational) . The club will meet on the property of the First Lutheran Church. The church is located on the NW corner of Rock and 8th St in Little Rock. If you come down Rock just turn into the parking lot for the church. Visit the Kingdom Toastmasters website and Facebook page.
Currently, Bill Jackson and Jolene Steinbicer are actively involved in Kingdom Toastmasters. They have found it helpful in developing their speaking skills and confidence to speak before groups. Feel free to ask them if you have questions. Also, we have included a few links for more information. Please come join us.
In the News
Read about the great things happening at Kingdom Toastmasters in this Arkansas Democrat Gazette, "Little Rock church club built on straight talk about Christ" by Frank Lockwood!